All Types of Roads, All Types of Weather. Be Ready.
With Volvo's All-Wheel Drive system, you're ready for any kind of weather – giving you extra confidence and control when you need it most. The Volvo All-Wheel Drive Instant TractionTM function provides drivers with the best possible road grip in all situations and weather – whether the roads are wet, slippery or completely dry. If a tire loses traction, power is reduced to that wheel that slip and instantly transferred to the more sure-footed wheels.
Models Offering All-Wheel Drive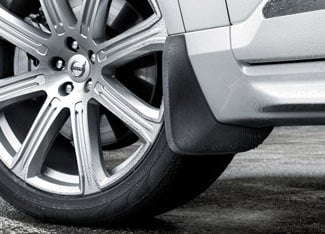 Volvo XC90
Volvo XC60
Volvo S90
Volvo S60
Volvo S60 Cross Country
Volvo V60
Volvo V60 Cross Country
Volvo V90 Cross Country
Volvo AWD System in Action
Combine All-Wheel Drive with Hill Descent Control (HDC), and you're ready for any kind of weather – giving you extra confidence and control when you need it. Standard on vehicles including the S60 Cross Country, HDC offers a smooth and controlled hill descent on steep, rough and slippery roads. You're in command since you control the speed with the accelerator when HDC is activated. This powerful feature utilizes the car's brakes and engine torque to crawl in low gear on steep downhill slopes – even in reverse.
Advances in the All-Wheel Drive system offers improved handling, stability and traction that provides drivers with confidences behind the wheel and an enjoyable driving experience while maintaining fuel efficiency.

For enhanced performance in adverse weather and road conditions, the Volvo's All-Wheel Drive system will provide you with the reassured handling you would expect from a Volvo vehicle. On dry roads, almost all the power is designated to the front wheels for maximum stability and fuel efficiency.
If wheel slippage is detected, the All-Wheel Drive system will redistribute the power between the front and rear wheels instantly. This highly reduces the chances of your Volvo getting into an accident when slippage occurs.
Celebrating 20 Years of Volvo All-Wheel Drive
Volvo Cars celebrates 20 years of All-Wheel Drive, testing its most capable cars in a winter test drive to showcase its leading mechanical and all-new electric All-Wheel Drive systems. On frozen lakes, across snow-covered roads and rain-soaked roads, Volvo's AWD is as much a safety feature as it is a vehicle dynamics system. Volvo is a new type of vehicle with a rugged design, capable characteristics and a firm eye on the future and what customers want.
"Volvo cars are well known for what we call 'framkomlighet' in Swedish – the ability to get you wherever you want to go – regardless of the weather conditions. This is an important part of our heritage and a clear reflection of who we are and where we come from" – Henrik Green, Senior Vice President, Research & Development at Volvo Cars.
A remote piece of rugged beauty in New Jersey awaits you. Take to the terrain, and travel on another unparalleled adventure. Let Ramsey Volvo get you behind the wheel of a Volvo vehicle equipped with the available All-Wheel Drive – ready to go whenever you are.