To celebrate the start of the 2017-2018 Volvo Ocean Race, Volvo Cars reveals an Ocean Race Special Edition model of its award-winning
2018 Volvo V90 Cross Country
. The Volvo Ocean Race teams aren't just racing, they're making key contributions to ocean science.
Now, the 2018 Volvo V90 Cross Country Ocean Race Edition is doing its part to tackle marine pollution, this special-edition Volvo features carpet inlays are made from Econyl, a fabric made from 100% recycled nylon, including abandoned fishing nets reclaimed from the seabed. And this is a good thing since there's an estimated 640,000 tons (1.28 billion lbs) of fishing gear left in the ocean each year, according to World Animal Protection, and discarded nylon plastic fishing nets make up a large part of it.
"The V90 Cross Country Volvo Ocean Race is a balanced and capable all-road car, at home on normal roads and off the beaten track," said Dan Olsson, Vice President Special Vehicles & Accessories at Volvo Cars. "On top of that it includes a range of specially developed standard features such as an integrated, detachable torchlight, additional power outlets and smart dirt- and water-resistant materials."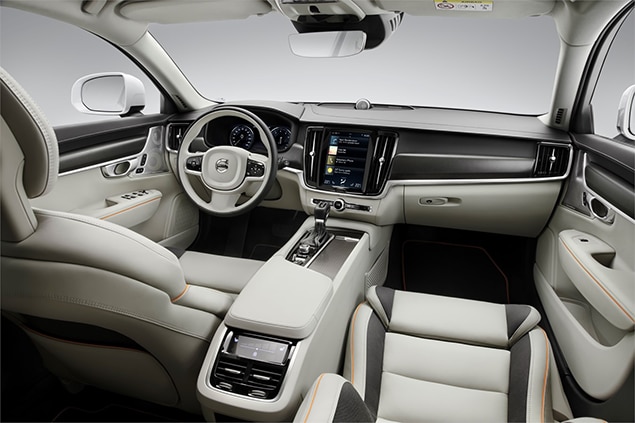 Key highlights of the 2018 Volvo V90 Cross Country Ocean Race Edition include a Crystal White exterior with exclusive wheels, while the interior features a luxurious and contrasting matte grey color with bright orange details on the seats and seat belts. These orange details can also be seen on the front and rear fascias.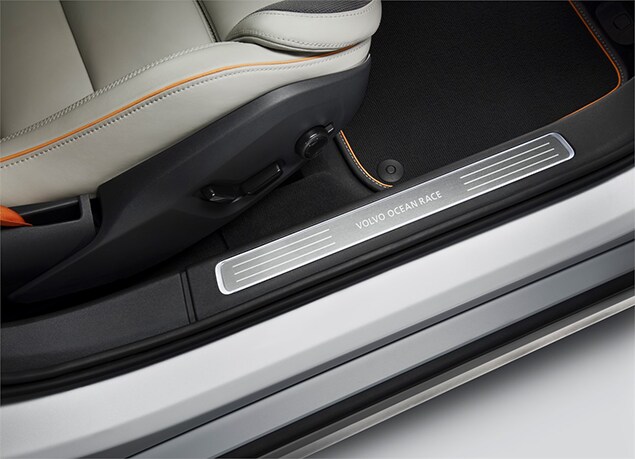 This is in addition to the many standard features of the 2018 Volvo V90 Cross Country, including All-Wheel Drive (AWD), an increased ride height and a specially optimized chassis that are designed for all weather and road conditions. And it's getting cold out there, so snow and ice are sure to be on their way soon, but thankfully the V90 is well equipped so it won't feel like you're out of control driving on a frozen ocean.

What is the Volvo Ocean Race Science Program?
Putting sustainability at its heart and focus, the Volvo Ocean Race helps 'Turn the Tide on Plastic' – the rapidly growing and critical problem of plastic polluting the ocean. The Volvo Ocean Race Science Program equips boats in the 2017/2018 race with a variety of sensors that will record data from some of the most remote parts of the world's oceans.
This details information will assist in creating more accurate weather forecasts and climate models used by scientists globally. The boats in the ocean race will measure levels of temperature, barometric pressure currents, wind speed, salinity, dissolved CO2 and algae in the surrounding sea water, so more complete picture of plastic pollution & its impact on ocean life can be shown.
This special-edition V90 Cross Country will support the Volvo Ocean Race's Science Program since Volvo will donate 100 euros (or approximately $116) for each of the initial 3,000 models that are being built, resulting in a total donation of 300,000 euros or about $348,000.
Follow the Volvo Ocean Race