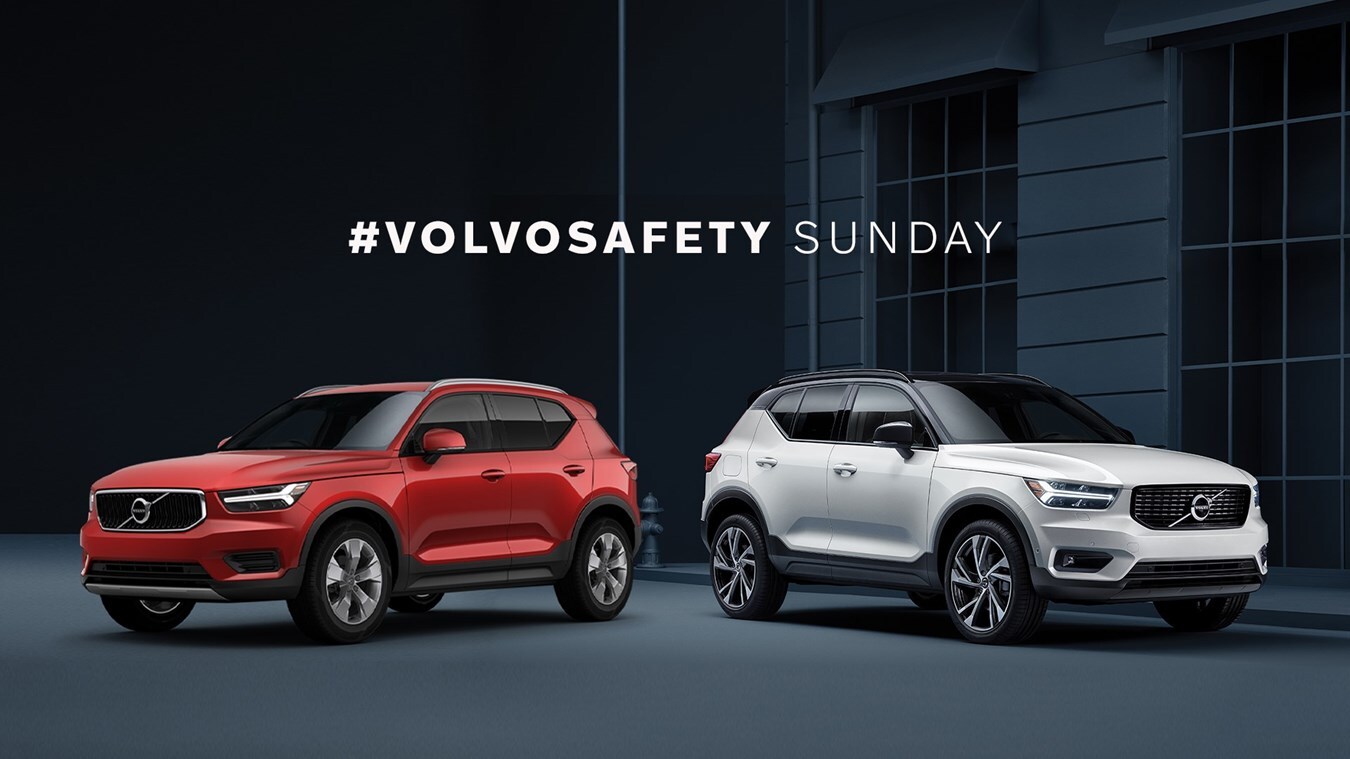 Volvo has done some unique things during the biggest football game of the year including The Longest Drive & The Greatest Interception Ever contests. When the San Francisco 49ers meet with the Kansas City Chiefs on Sunday February 2nd, you'll want to be looking for a safety to be scored.
That's because Volvo Safety Sunday will be taking place during the Big Game! This contest will be taking place during gameplay and if a safety gets scored, then our brand will be giving away $1 million* worth of new cars & SUVs!

Would you like to win a new Volvo? You can get your chance to win by:
Visiting VolvoSafetySunday.com between now & just before kickoff on February 2nd**
Designing the 2020 Volvo model available in the U.S. you'd want in any trim & color
Submitting the unique configuration code that you get
Our model lineup is comprised of:
The commuter-friendly 2020 Volvo S60 & S90 sedans
The spacious 2020 Volvo V60 & V90 wagons
The versatile 2020 Volvo XC40, XC60 & XC90 SUVs
In total, there have been 9 safeties scored during football's biggest game of the year:
The Pittsburgh Steelers scoring on the Minnesota Vikings during Super Bowl IX
The Steelers getting one on the Dallas Cowboys during Super Bowl X
The Chicago Bears getting their final points on the New England Patriots in Super Bowl XX
The New York Giants sacking John Elway of the Denver Broncos during Super Bowl XXI
The Giants scoring on the Buffalo Bills during Super Bowl XXV
The Arizona Cardinals getting a penalty when playing the Steelers in Super Bowl XLIII
Tom Brady of the Patriots getting penalized when playing the Giants in Super Bowl XLVI
The Baltimore Ravens giving one to the Cincinnati Bengals intentionally to run out the clock during Super Bowl XLVII
The Seattle Seahawks recovering a botched snap by the Denver Broncos to Peyton Manning during Super Bowl XLVIII
A safety is not very common in football because you have to score one by having the offensive team getting tackled, fumbling the ball or committing a penalty in their own end zone.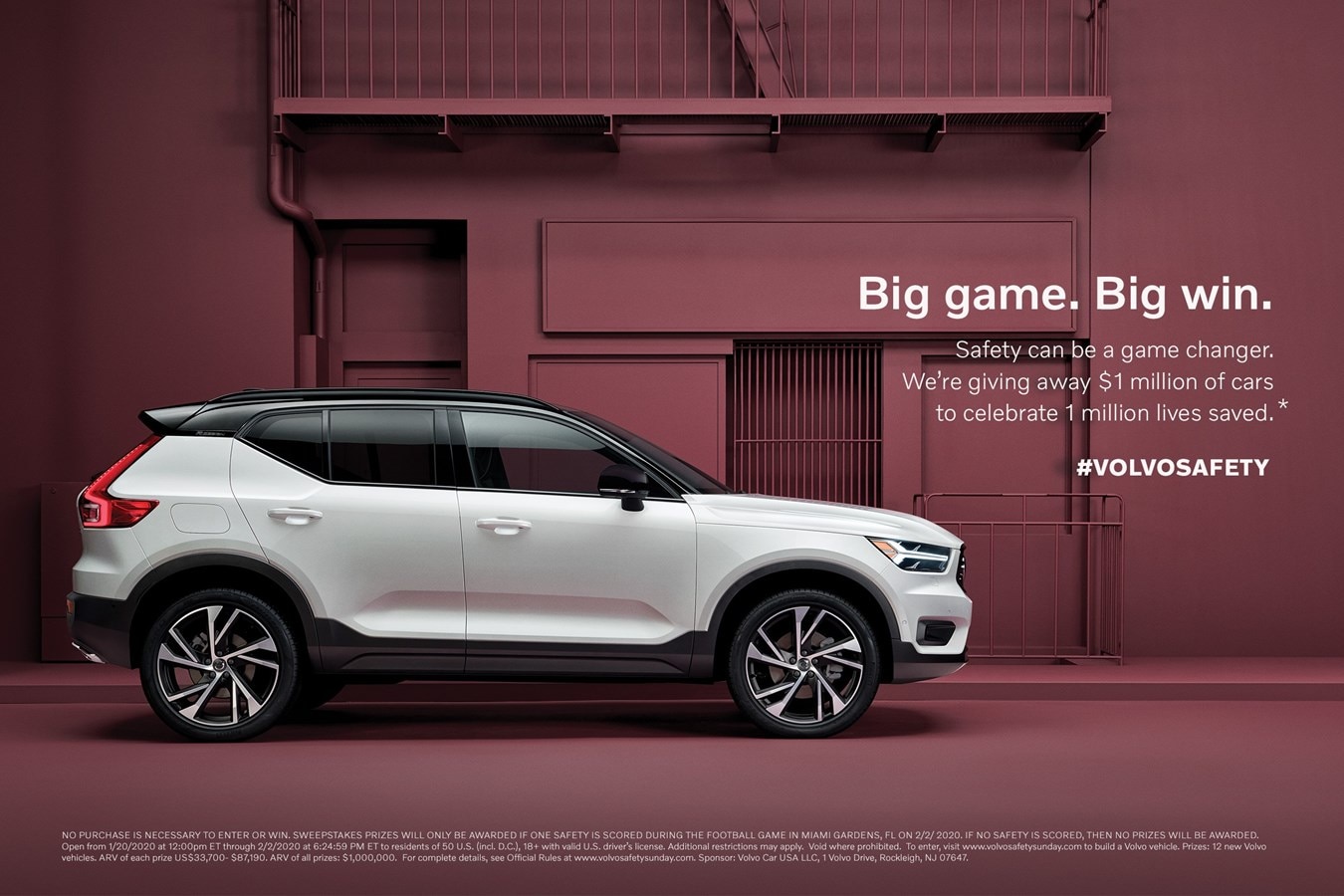 Volvo Safety Sunday celebrates the more than 1 million lives saved by the safety innovations offered in Volvo cars & SUVs over the years. Some of our favorite Volvo firsts in safety includes:
3-point seat belt in 1959
1st rearward-facing child safety seat concept in 1972
Side-impact & whiplash protection systems in 1991 & 1998, respectively
Blind spot information system in 2003
City Safety collision sensing system in 2008
Pedestrian detection with full auto brake in 2010
Cyclist detection in 2013
Slippery road & hazard light alerts in 2016
The commercials aired during the Big Game only give you 30-60 seconds of pleasure, while a new Volvo will give you years of enjoyment. Whether you like the ads, the football, the partying or a combination of the 3 on that faithful Sunday, we hope you have a fun time and we hope you win a Volvo!


*NO PURCHASE IS NECESSARY TO ENTER OR WIN. SWEEPSTAKES PRIZES WILL ONLY BE AWARDED IF ONE SAFETY IS SCORED DURING THE FOOTBALL GAME IN MIAMI GARDENS, FL ON 2/2/2020. IF NO SAFETY IS SCORED, THEN NO PRIZES WILL BE AWARDED. Open from 1/20/2020 at 12:00pm ET through 2/2/2020 at 6:24:59 PM ET to residents of 50 U.S. (incl. D.C.), 18+ with valid U.S. driver's license. Additional restrictions may apply. Void where prohibited. To enter, visit www.volvosafetysunday.com to build a Volvo vehicle. Prizes: 12 new Volvo vehicles. ARV of each prize US$33,700- $87,190. Total ARV of all prizes is up to: $1,046,280. For complete details, see Official Rules at www.volvosafetysunday.com. Sponsor: Volvo Car USA LLC, 1 Volvo Drive, Rockleigh, NJ 07647.
**Entry must be submitted before 6:24:59 on 2/2/2020.