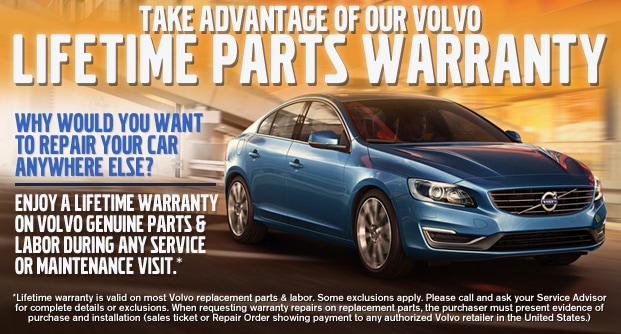 Pay For A Repair Once - Never Pay For It Again!

No more worrying about having to pay for a costly repair again in a few years... Volvo has you covered for as long as you own the car!* Volvo launched its new Lifetime Parts and Labor Warranty as of June 8, 2015!
The
Volvo Lifetime Parts and Labor Warranty
is only available to retail customers that purchased the genuine Volvo replacement part from an authorized dealer and has the part installed at an authorized Volvo dealer.
Our Volvo Parts and Labor Warranty does not cover items that are accessories, consumables or wear and tear items, including (but not limited to):
Batteries
Batteries for Keyless Entry
Timing Belts
Filters
Belts
Brake Pads
Rotors (excluding run out)
Wiper Blades
Spark Plus
Floor Mats
Upholstery / Rugs

Ramsey Volvo offers factory certified technicians that use only the latest
diagnostic and repair equipment to ensure that you get the highest quality auto service, repair or maintenance work.
When it comes to professional care and maintenance of your Volvo, the only logical place to go for genuine Volvo service with competitive pricing is Ramsey Volvo. And with over 100 years of combined experience, our factory trained technicians are committed to "fixing it right the first time".

Schedule Your Service Appointment

*When requesting warranty repairs on replacement parts, the purchaser must present evidence of purchase and installation (sales ticket or Repair Order showing payment to any authorized Volvo retailer in the United States) with the Repair Order as support. The Lifetime Parts & Labor Warranty does not apply to third party purchasers such as independent repair shops or on parts purchased over the counter and not installed by an authorized Volvo dealer. The Lifetime Warranty applies to the original purchaser and is non-transferable.